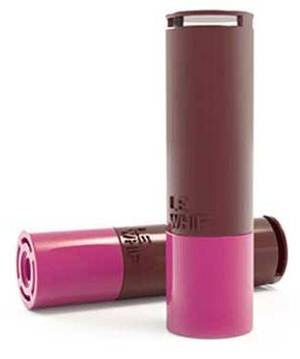 Have you ever heard smoke chocolate or coffee?
This new chocolate and coffee is created by ArtScience Labs, a research network founded by Harvard professor David Edwards, launched a new Le Whif flavor, coffee, in the United States with a roll-out hitting stores throughout England, France and Japan.
"Le Whif Coffee" is the lipstick-shaped inhaler delivers tiny sprinkles of a breathable coffee powder with an amount of caffeine equivalent to an espresso. "Le Whif first offered the taste of chocolate without the calories, and now it offers the kick of coffee without the cup," said Edwards.
Le Whif Chocolate, introduced at the 2009 Cannes festival.
All of Le Whifs have been redesigned and are biodegradable, organic and contain less than one calorie. Now available in four flavors: pure chocolate, raspberry chocolate, mint chocolate and coffee, the product can be purchased online at LeWhif.com or in select specialty stores worldwide for €1.80.
ArtScience Labs is working on additional Le Whif flavors and innovative breathable food products that will be showcased in Le Whif stores around the world later this year.

コーヒーやチョコレートを吸って楽しむ、これなら太ることも、肌荒れも気にしなくて済む??
"Le Whiff"という、吸うコーヒーとチョコレート製品を発明したのはハーバード大学のデイヴィッド・エドワーズ教授が投資するアート・サイエンス研究所で、チョコレートは2009年のカンヌ映画祭で初めて公に紹介、発売され、この度コーヒーが新たにイギリス、フランス、そして日本でも4月に発売されるようです。
口紅ほどの大きさで、、小さなミストのようなパウダーが噴霧されると言う仕組み。この噴霧されるコーヒーのパウダーには、エスプレッソ程度のカフェインが入っているため、コーヒーが飲めない場合でもカフェインの効果があるそうです。
噴霧できるほど小さい分子でありながら、肺に入れるには大き過ぎるように分子構成がデザインされていると言うから、たかが匂いといっても侮れません。
現在、チョコレート味、ラズベリー・チョコレート味、ミント・チョコレート味、コーヒー味の4つを出しており、今後、さらに多くのフレーバーを作り、吸える食品と言うものを発展していく予定だそうです。